>> Sunday, March 8, 2009
*whispering and spitting into ear*
"Do you have to go to work after your nap?"

The girls are HILARIOUS with their secrets but generally this is the only one that they ask lately and it is always directed to Matt, of course b/c I am always with them. They got a special answer though on Friday night when they asked him b/c he got to answer "No, I don't have to go to work tomorrow". Yeah, we got to spend a Saturday with Daddy! What did we do?

First, we woke up early and had to head to Babies-r-us to get a new gate for the top of the stairs. I know that after the new babe comes we will be getting visitors and I want their kiddos to be safe and our gate was accidently broken by someone so we needed to have it replaced. After getting the gate Matt let me try, OBVIOUSLY unsuccessfully, to walk the baby out again by quickly walking the mall and then letting the girlies ride the carousel b/c they behaved. THEN he took me to my old favorite restaurant near by and to my surprise the meal that they had once taken off the menu was back on. Shrimp en Brochette, it is shrimp & jalepanos wrapped with bacon and then a spicy cheese sauce to dip it in. Comes w/dirty rice and their to.die.for veggies. So yummy! Here is Matt and the girls while we were there.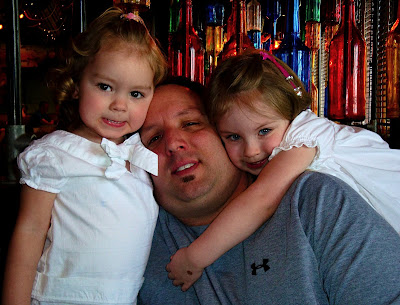 When we got home we cleaned out the garage - again - and let the girls play. It was such a perfect day yesterday and Matt and I even had a "date" and watched a movie after the girls went to bed. Still no babe but we plan on taking the girls for a nice walk today since it is BEAUTIFUL here - a mama's got to hope right :)