>> Friday, June 5, 2009
Piper is totally into the movie Bolt. Have you seen it? The little girl, Penny, has chin length hair and our daughter decided that she HAD TO HAVE IT! What is a mama to do? First I measured how much she wanted to have taken off and then I checked out Locks of Love to find out what their requirements were. 10 LONG inches. Now this is not a hair cut that I was willing to trust to just anyone so when I received an email about a special the salon I go to was having I called to see if I could get Piper an appointment there. Much to my surprise there was a stylist who if you were donating your hair would cut it for free - wheeeee!!! After I made the appointment I posted on Facebook to find out what other friends of mine would do if their 3 year old asked for that dramatic of a change and they all said "go for it!" - right, b/c it isn't their kid :) Well, she still wanted it cut an hour before her appointment so we went - mama was almost in tears but Piper was ear to ear smiles and they treated her like a princess.


Ready



Set



Cut!!!





Ooh la la - wash & mini massage :)

I have to mention this here so that I don't ever forget. This all happened while she was getting her hair washed. Piper wouldn't talk to Darnell with me there but when I stood where she couldn't see me she started jabbering up a storm. It was hilarious b/c Darnell couldn't understand everything she was saying so she would look over at me and I would tell her and then she would answer Piper. It was so adorable and now I know she isn't shy when I am not around :)
also 1st blow out :)



Done!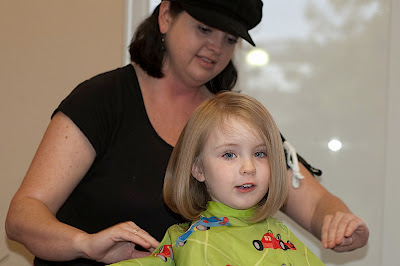 My baby looks so grown up :)

Tonight as we were putting Piper to bed she kept asking when she got to go back and get her hair cut again. Matt told her that hair didn't grow overnight :) It has been a big day here today and I think that I dealt with everything much better than I thought I would - the cut is super cute and she loves it. What more could we ask for?