>> Sunday, April 24, 2011
If you are as old as the hills like myself you might remember those awesome multiple exposure school pics that they had back in the 70's. I remember my cousin having one in 1978 but my school in WI wasn't as cool as her school in CA so I never, sadly, got one done. Until now. My PS skills are lacking but here it is...


During spring and summer we all get a little busy but
Cara
and I would still love for you all to continue or even start to join in on this 52 week project. Next week will be
Rule of Thirds>
.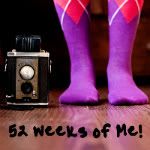 Happy Easter!